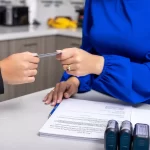 The Significance of Accurate Signer Identification: Essential Tips for Notaries
October 12, 2023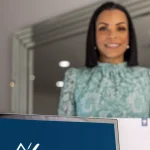 Common Mistakes in Real Estate Closing Signings: How Notaries Can Avoid Them
November 2, 2023
In an era where digitalization has revolutionized the way we conduct business, remote online notarizations (RON) have emerged as a game-changer in the realm of electronic signings in real estate transactions. One critical innovation that has further bolstered the security of electronic signings is the integration of blockchain technology. In this blog post, we'll explore how blockchain technology is transforming RON and why it is vital in guaranteeing the security of electronic signings.
What is Blockchain Technology?
Blockchain is a decentralized, tamper-resistant ledger technology that records transactions across multiple computers. Each block in the chain contains a timestamped record of transactions, creating a secure and transparent digital trail. This innovative technology was initially developed as the backbone of cryptocurrencies like Bitcoin but has since found applications across various industries, including real estate and notarization.
Why Blockchain Matters in Remote Online Notarizations:
International Transactions
Blockchain's global accessibility is particularly beneficial for cross-border transactions. It streamlines the notarization process and ensures the validity of documents across borders, but it is also convenient, since signers could get documents notarized with different parties simultaneously anywhere in the world at the same time.
In traditional notarization, documents often need to undergo a time-consuming and costly authentication process when crossing borders. Blockchain simplifies this by providing a universally recognized and verifiable record of notarization. This can significantly expedite international business transactions, making them more efficient and cost-effective.
Furthermore, blockchain's decentralized nature eliminates the need for intermediaries in cross-border notarization, reducing fees and increasing transparency.
Trust and Credibility
The use of blockchain technology in RON enhances trust and credibility, as it provides an immutable record of notarization that can be easily verified by all parties involved.
With blockchain, the notarization process becomes more transparent and auditable. Parties can access and verify notarization records independently, reducing the need for intermediaries to verify document authenticity. This can lead to faster and more efficient transactions, benefiting both businesses and individuals.
Fraud Prevention:
Blockchain's transparency and traceability make it an effective tool for preventing fraud in RON. Any unauthorized changes to documents are immediately detectable because they disrupt the continuity of the blockchain. This transparency discourages fraudsters from attempting to manipulate notarized documents. Moreover, the cryptographic features of blockchain technology provide a unique digital fingerprint for each document, making it virtually impossible to forge or duplicate documents without being detected.
In essence, blockchain acts as a vigilant guardian, ensuring that the documents notarized through RON maintain their integrity throughout the process.
Enhanced Security
The decentralized nature of blockchain eliminates the risk of a single point of failure. Each participant in the blockchain network maintains a copy of the ledger, making it extremely secure against cyberattacks.
Attempting to tamper with a document recorded on a blockchain requires altering the information on multiple copies of the ledger simultaneously, an almost impossible task. This level of security greatly reduces the risk of fraudulent activities during notarization.
Blockchain's security measures can withstand even sophisticated cyber threats, offering peace of mind to mortgage professionals, notaries, signers, and all involved parties.
Immutable Records
Blockchain ensures that once a document is notarized and recorded, it becomes part of an immutable chain. This means that the data cannot be altered, ensuring the integrity of signed documents.
In traditional notarization processes, the risk of document tampering exists, as physical documents can be altered or replaced. With blockchain, this risk is significantly mitigated, enhancing the overall security of electronic signings.
Furthermore, this immutability instills confidence in the validity of notarized documents, which is crucial for legal and financial transactions. Stakeholders can trust that the documents remain in their original, unaltered state.
Why is this beneficial for Real Estate Transactions?
Mortgage professionals play a pivotal role in the real estate industry, and the integration of blockchain technology in RON holds significant implications for their daily operations. The adoption of blockchain-powered RON platforms translates into greater efficiency, reduced operational costs, and heightened security for mortgage transactions.
Mortgage professionals can now facilitate smoother transactions, as blockchain-enhanced RON ensures the authenticity of mortgage documents and minimizes the risk of fraud. Additionally, the elimination of geographical constraints allows mortgage professionals to work with clients and notaries from coast to coast I the nation seamlessly. The increased trust and transparency brought by blockchain technology makes it easier for mortgage professionals to close deals with confidence, knowing that the documentation process is secure and reliable.
At The Closing Signing Service, we stay up to date with the new technologies and legal requirements, when remote online notarizations become increasingly prevalent, the incorporation of blockchain technology offers a solution to address security concerns in electronic signings. It creates a robust, immutable, and transparent system that instills trust, prevents fraud, and ensures the integrity of digital documents. The convergence of RON and blockchain technology represents a significant leap forward in the evolution of secure and efficient electronic signings, benefiting businesses, individuals, and the entire notary industry.
Do not forget to check The Do's and Don'ts for RON in our blog by Clicking here